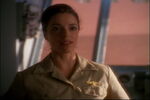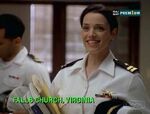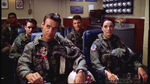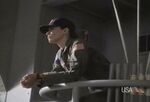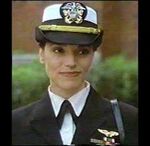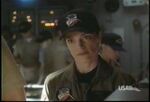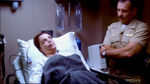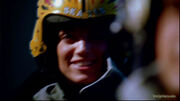 Lieutenant Elizabeth "Skates" Hawkes is a Radar Intercept Officer (RIO) or Naval Flight Officer by designation. The CAG aboard the USS Seahawk, then Captain Thomas Boone, described Skates as the "his best RIO." "Skates", as known to her aviator colleagues, was able to eject out of an F-14 ramp strike caused by an incompetent female pilot (Crossing The Line). In that incident, Harm grabbed her parachute and prevented her from falling into the sea and being cut up by the screws. She later visited JAG to pass Harm three manuals regarding the F-14, thus encouraging to change his designation to that of a Naval Aviator. (Goodbyes).
Skates supported Harm as his RIO in several missions (King of The Greenie Board,True Callings and Adrift Part I) and Harm later got her acquitted in a court martial where Mac was the prosecuting attorney (Mishap). She most notably saved his life by "jumping his bones" when he was suffering from hypothermia (Adrift, Part II). They both again flew in another F-14, to provide a CAP for the SuperBowl (Odd Man Out). That was the final appearance of Skates. She was later mentioned by Sarah MacKenzie in the episode Episode:The Mission.
Skates is portrayed by Sibel Galindez.
Decorations
Navy and Marine Corps Commendation
Navy Meritorious Unit Commendation
National Defense Service Medal
Navy Sea Service Deployment Ribbon
Note: The costume department clearly made mistakes with Skates' ribbons. Given her full duty as a RIO, she should also have received the Kosovo Campaign (with at least one service star), since she served there with Harmon Rabb. They also never promoted her despite her appearance from Season 2 to Season 7; she should at least be a Lieutenant Commander.