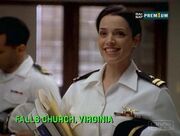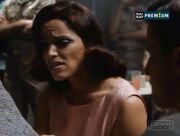 Sibel Catherine Galindez nee Ergener portrayed Lieutenant Elizabeth "Skates" Hawkes as well as the character Dixie in the role playing episode, Ghosts of Christmas Past. Born in 1967, she is a graduate of Harvard University and portrayed "Skates" in at least nine episodes of JAG. She was suppose to appear in the episode, "All Ye Faithful" but rejected it as she had moved to the East Coast with her husband.[1]
Previously, she starred in a range of TV Series, TV Movies and Movies such as Wings, Beverley Hills 902010, Sliders, The Making of a Hollywood Madam, The Last Big Thing (R Rated) and The David Cassidy Story. She also acted in the 1994 drama act, "Dylan" and the 1995 act, "Florinda".[2][3]
Most notably, she has starred in the film, Falling Down, along side actor Michael Douglas.[4][5] She has also worked as a Performing Arts Director at Portsmouth Abbey School in Portsmouth, Rhode Island.[6][7] She met her husband, then Lieutenant Peter Deacon Galindez, (now Captain, as of 2013[8]) in July 1999, while filming an episode/episodes on the USS John C. Stennis and married on April 29, 2001.[9] She also serves as a member of the Kumeyaay Elementary School Foundation [10][11][12] as well a a leading member in the Wood Acres PTA.[13]
She has lived in San Diego, Bristol, Rhode Island, Norfolk, VA and Bethesda, MD.[14]
Interesting Facts: Sibel herself was one of the three finalist who auditioned for the role of Major Sarah MacKenzie. Unfortunately, it was given to Catherine Bell[15]. She was also suppose to appear in the episode Episode:All Ye Faithful, but turned it down due to her move to the East Coast with her new husband.
At present, Sibel's husband has reached the rank of Captain (O-6) in the JAG Corps.[16] He is now the Force Judge Advocate for Commander, Naval Air Force Atlantic (AIRLANT), having recently served as Commanding Officer, Defense Service Office Southeast (DSO SE).[17]
Sibel now lives in Hampton Roads, Virginia and teaches at a local theater. She is in charge of a project called "the telling project".[18][19] She is also part of "Moms Demand Action for Guns Sense".[20] and sits on the board of Zeiders American Dream Theater.[21]
References
External Links