Jurassic World: Dominion Dominates Fandom Wikis - The Loop
Play Sound
Season 1

Country of origin:
United States
No. of episodes:
22
Broadcast
Original network:
NBC (ep. 1-21)
USA Network (ep. 22)
Original release:
September 23, 1995 – July 15, 1996
Home video release
DVD release date:
July 25, 2006
Season chronology
← Previous
N/A
Next →
Season Two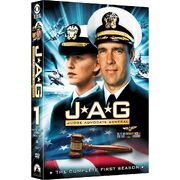 The first season of JAG premiered on NBC from September 23, 1995 to July 15, 1996, after 22 episodes and leaving one unaired. It was produced by Belisarius Productions in association with NBC Productions (now Universal Television).
Plot
Lieutenant Harmon "Harm" Rabb, Jr. (David James Elliott), a former naval aviator turned lawyer, is employed by the Navy's Judge Advocate General's Corps, the internal law firm of the Department of the Navy. In Washington, D.C., Harm is partnered with Lieutenant Meg Austin (Tracey Needham), a junior officer with drive and determination. Together, Harm and Meg work alongside Commander Alison Krennick (Andrea Thompson), Rear Admiral A.J. Chegwidden (John M. Jackson), and Lieutenant Caitlin Pike (Andrea Parker), as they prosecute and defend the under the Uniform Code of Military Justice (UCMJ). This season, the team investigate the murder of a female naval flight officer ("A New Life"), the death of a civilian contractor ("Shadow"), a training mishap ("Desert Son"), a murder at Arlington National Cemetery with connections to Thai diplomats ("Déjà Vu"), and a murder at the U.S. Embassy in Peru ("War Cries"). Also this season, Harm suffers personal losses when his best friend ("Pilot Error") and girlfriend ("Skeleton Crew") are both killed, Meg faces death when she is critically wounded by a professional assassin ("Hemlock"), and Harm is promoted to the grade of Lieutenant Commander ("Defensive Action").
Production
Production of the first season of JAG was based at Sunset Gower Studios, right in the heart of Hollywood.
In Spring 1996, NBC announced that they were not commissioning JAG for a second season. Donald P. Bellisario states that he had already received offers from CBS and ABC to pick up the series. Bellisario also credits the cancellation with allowing him to create "the show he'd always wanted to make", as NBC had "wanted action, and [he had] wanted a mix of legal [drama] and action".
Cast and Characters
Main
Recurring
Special Guests
Kevin Dunn

as Rear Admiral

Al Bravo

Julie Caitlin Brown as Staff Sergeant Carrington
Jenny Gago as Sergeant Gonzalez
Sam Jenkins as Private Whitley
Oliver North as Uncle Ollie
Catherine Bell as Lieutenant J.G. Diane Schonke

Karri Turner

as Ensign Harriet Sims
Episodes
JAG Season One - Episode List 
Episode Number
Title
Airdate
Notes
No. in

series

Episode
1
1
A New Life, Part I
September 23, 1995  
When the body of a female F-14 fighter pilot is found floating in the Mediterranean, Judge Advocate General Albert Brovo partners young Lieutenant Harmon Rabb with Lieutenant Caitlin Pike with the two being sent to the U.S.S. Seahawk where they must find out whether her death was intentional or accidental.
2
2
A New Life, Part II
September 30, 1995  
When the body of a female F-14 fighter pilot is found floating in the Mediterranean, Judge Advocate General Albert Brovo partners young Lieutenant Harmon Rabb with Lieutenant Caitlin Pike with the two being sent to the U.S.S. Seahawk where they must find out whether her death was intentional or accidental.
3
3
Shadow
October 7, 1995  
Following the reassignment of Caitlin Pike, Harm is partnered with Meg Austin, a Lieutenant JG with a phobia of enclosed spaces. Their first case together is the hijacking of an experimental torpedo by a civilian contractor. Together, they must try and trick the captor into deactivating the missile himself.
4
4
Desert Son
October 21, 1995  
Harm and Meg are called to investigate when the son of a former Commandant in the United States Marine Corps is accused of negligence that left several marines injured during a training exercise. The case becomes more complex when the son confesses, but Harm doubts his guilt.
5
5
Deja Vu
November 4, 1995  
After the body of a naval officer is found at Arlington National Cemetery following a reception at a French embassy, Harm and Meg are called to investigate. Meanwhile, a new acquaintance prompts Harm to reminisce of a female friend in Vietnam, who was murdered by her country's military.
6
6
Pilot Error
November 11, 1995  
When one of Harm's friends is killed testing a new type of auto-navigation system, he and Meg must determine whether it was pilot error or a mechanical failure.
7
7
War Cries
December 2, 1995  
A Peruvian boy is killed inside the U.S. Embassy in Lima, and Harm and Meg must determine his intent before the country explodes in anger. Part of the scenes for the assault on the convoy were taken from the movie Clear and Present Danger.
8
8
Brig Break
December 9, 1995  
Meg is taken hostage during a "brig break", but Harm suspects that the target is much larger than just one prisoner.
9
9
Scimitar
January 6, 1996  
A Marine Humvee crosses into Iraqi territory, and Harm and Meg are sent to defend the surviving crew member in an Iraqi court. Harm is also given a secondary task – help the Marine escape regardless of the trial's outcome.
10
10
Boot
January 13, 1996  
Meg goes undercover as an enliisted boot camp recruit at Parris Island after a USMC recruit is found dead and suspicion falls on the drill instructors. This episode was supposed to be aired after "Defensive Action" (since Harm already got his promotion, and that case is referenced in the beginning).
11
11
Sightings
February 3, 1996  
A little girl goes missing and Harm and Meg go looking for her around a closed naval airfield in Texas where several "UFO sightings" have been reported.
12
12
The Brotherhood
March 13, 1996  
When a Marine is found unconscious on a beach, Harm and Meg get drawn into a "turf war" between the Marines and a prominent L.A. street gang.
13
13
Defensive Action
March 20, 1996  
Newly promoted LCdr. Rabb must defend the CAG, Capt. Boone when he is accused of shooting down a Serbian helicopter.
14
14
Smoked
March 27, 1996  
A lightning-damaged Tomcat makes an emergency landing in Cuba, so Harm and Meg go there to try to "talk" it back before the Cubans have a chance to download the avionics and sell them to Iran. There is a new JAG, Rear Admiral A.J. Chegwidden, a former Navy SEAL.
15
15
Hemlock
April 3, 1996  
After having received a mysterious message on the fax machine, Meg is critically wounded by an assassin, posing as a commander in the British Royal Navy. The assassin's real target is Russian President Boris Yeltsin who is secretly coming to the United States to sign a treaty.
16
16
High Ground
April 10, 1996  
A top Marine sniper refuses to be deployed to Bosnia and goes AWOL after being accused of trying to kill his CO.
17
17
Black Ops
April 17, 1996  
A pilot and son of a female U.S. Senator attached to a team of SEALs dies, apparently due to negligence on the part of the SEALs. The Senator initially wants to put the blame on the SEALs, but Admiral Chegwidden and Harm find that the real cause of the pilot's death lies elsewhere.
18
18
Survivors
April 24, 1996  
A Marine Colonel believes his son is the reincarnation of his Vietnam War comrade, so he kidnaps the child amidst child custody court proceedings to fulfill an old promise.
19
19
Recovery
May 1, 1996  
An emergency procedures drill during a Space Shuttle "dry run" goes wrong when a cable breaks and an astronaut falls to his death. Harm and Meg have to determine if it was sabotage before the shuttle goes up.
20
20
The Prisoner
May 8, 1996  
While in Hong Kong (one year before the transfer of sovereignty from Britain), Harm is kidnapped by the Chinese and interrogated about anticipated American reaction should China try to take the Matsu Island by force. While imprisoned, Harm believes the man in the cell next to him is his missing father.
21
21
Ares
May 22, 1996  
When the computerized Aegis Combat System onboard a U.S. destroyer suddenly malfunctions, Harm, Kate and Meg have to figure out how to keep it from falling into North Korean hands.
22
22
Skeleton Crew
July 15, 1996  
An old friend of Harm's turns up dead, and the prime suspect in her death also dies under mysterious circumstances, so Harm falls under suspicion of murder by the NCIS agent in charge. It includes the second appearance of Bud Roberts (played by Patrick Labyorteaux) as the Seahawk's Public Relations Officer.